The school management process is not as cumbersome as before because most schools are using the best school management software to manage their entire administrative activities. An efficient school management program should keep all school players connected.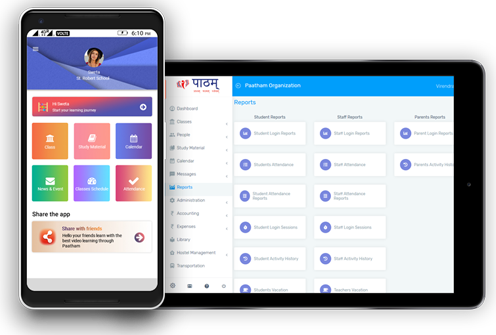 Mobile phones are the perfect way to stay connected and here we applied "the realm of mobile phones" in the school management system.
We have made progress in the school management software through "Paatham," which is a special school program which handles all activities efficiently, systematically and in an orderly manner. These days, this software will be one of the preconditions for someone who wants to manage data effectively and most of all is user-friendly.
Paatham– School Management System
By using Paatham your school can manage all elements of school management system including students, courses, exams and teachers.
Best web-based school management system
It is easy, cost-effective and allows the user to access it from anywhere, but the network availability must be assured. Paatham is the best mobile web-based school technology to operate your educational institution.
A Unique feature of Paatham – School Management Software
One of Paatham school management software's main advantages is to deliver a school management system tailored by your own school and it is a big step for Paathamschool management system to achieve high levels of trust and loyalty from the niche.
Features of Paatham– School Management System
It's easy to use, affordable, flexible and scalable.
It saves a lot of time for the teachers and parents.
Instant availability of reports.
Data migration from a different type of file is possible.
It is highly secured and backup of data can be done.
Fast implementation.
Only minimal training is required.
Multiple dashboards which are picturesque.
Easy to identify the applications instantly.
It can be personalized as per the requirement of the school.
As the name "THE MOBILE APPLICATION" implies one can easily guess it keeps the parent, student, teachers connected through mobile phones. It's so simple to use this app, a no-brainer and absolutely facile.
This app in the school management system makes all the activities of the school transparent and creates a good image of the school in society. As many tasks are simplified with a few clicks, the teachers can use their time productively.
Benefits of THE MOBILE APPLICATION
Parents are updated with every activity of the school.
Parents can view the Rank and result of the student.
Multiple accesses are also possible for parents' more than one child.
Comparison of the performance of the student.
The teachers can send Academics reports, Co-Scholastic marks, and various other reports.
Updation of any parent-teacher meetings.
Instant notification of the student's absence from school and other notifications to the parent.
It's highly secured with user name and password for each student.
Allows taking prompt decision by the parent as well as a teacher.
We are deeply proud and find introducing such unique feature in the school management software as one of our greatest professional accomplishments, and the recognition you give back to Paatham will lead us to higher heights that will ultimately help the school community and thus an effective school management system.