What is school management software?
School management software is an application that helps your academic organization handle all procedures. The correct school management software for any classroom or school is an organisational boon. It is because most procedures driven by rules can be automated and digitized for the school management software to be conducted.
It involves everything from submitting request forms during admissions to creating massive individual fee receipts for the student body. Therefore, school management software is the perfect partner to guarantee that every academic institution functions smoothly on a day-to-day basis.
How does a school management mobile app help?
While school management software is a helpful instrument in the arsenal of any instructional institution, when using it on a mobile device, one can acknowledge its complete value. The complete power of school management software is unleashed by the suitability of using equipment from people to be used on the go.
Research demonstrates us that most individuals are using mobile devices to access their internet portals, such as mobile phones or tablets. A instrument like a school management software becomes a right partner in the instructional ecosystem in this fast-paced world when individuals can use it at any moment and across their systems from anywhere. In this respect, seamless experience across devices and platforms is essential to growing use by multiple industry stakeholders on a continuous basis.
How features of school management mobile app improve efficiency?
One of the noticeable benefits of using ERP applications is how it makes everyday procedures more effective for all stakeholders in the educational ecosystem. People can more efficiently and effectively handle their daily duties. Such results will only be improved when using the classroom ERP mobile app.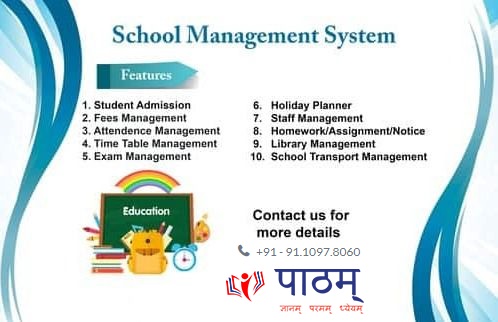 BELOW WE DISCUSS THE FEATURES OF SCHOOL MANAGEMENT SOFTWARE THAT GET ENHANCED WHEN USED ON MOBILE DEVICES:
Staying on track implies having access to one's timetable easily and easily accessible. This is particularly the case for learners who are also learning how to organize and retain consistency in their lives alongside their academic endeavors.
In this sense, having a portable classroom management app that shares timetable details in real time, along with associated data, enables learners to adhere to a schedule and create practices that will also make them a future-oriented timetable.
Fee payments are essential for school management as they impact the bottom line directly. It is also an indicator of a school's economic health and a extremely delicate process. Fee generation and payment is a high-stakeholder method–reducing error rates is crucial and remaining precise in detail.
A school management software is therefore a ideal fee management scheme that can take over any academic institution's end-to-end fee method. The benefit of using the classroom leadership app is that parents can pay fees and obtain cleared on – the-go receipts for duties.
The classroom ERP app allows them to make safe payments at any moment and from the device of their choice via a payment gateway from anywhere. It can be simple for both parents and school management to know that this essential process is proceeding smoothly and effectively, while being convenient for all involved stakeholders.
Attendance tracking system help any academic institution's student body health. It is possible to study patterns in attendance to comprehend patterns that show disease, blockers to attendance, or even learners who may fall back in some manner or another. But attendance tracking is not restricted to finding these trends in a school management app.
Being able to use attendance monitoring in real time via the mobile app enables parents and educators as well as management to be conscious of the whereabouts of a student or to monitor where they were last. While independence is encouraged, a school's primary mandate is also to ensure the safety and security of a student – this is made possible on a day to day basis by the attendance tracking feature in the school management app.
Messaging Platform for Notifications and Alerts
Staying up-to-date in real time leads to more effective days at any educational organization for students, teachers, parents, and management. In this respect, a mobile school management app is particularly helpful–it can send system-wide alerts and notifications in a matter of moments and reach the individuals it wishes on its mobile devices. No longer send circulars or make endless phone calls to update stakeholders in the educational ecosystem about what is happening on a daily basis.
Instead, to keep everyone in the loop, use instant SMS or email notifications or in-app notifications and messages. To receive such alerts and notifications, notifications and alerts can be set up and muted for a multitude of reasons, as well as being able to select an audience from one to pre-selected groups. These alerts and notifications also take into account privacy issues as they are within the school management software platform itself and can be kept confidential to a selected public rather than a system-wide alert if so desired by the notification sender or alert.
Automated alerts and notifications can also be set up to provide appropriate parties with confirmations or other data caused by inner procedures. This type of automated messaging scheme guarantees lowering the strain on an educational organisation time and labor resources.
Maintaining the safety and security of the student at an academic institution is a crucial component of every school. It involves traveling to and from college during their commute. Parents and school governance must obviously be able to monitor each individual student's whereabouts during the day at any specified time point. The transportation management function in the school management app makes it possible. It enables parents and administration to monitor which transportation car is present at the school, to which each person has been allocated, and also to monitor the vehicles whereabouts in real time.
Also, the transportation management module describes paths and stops for a school transportation car that keeps parents informed about the path to and from school. With such a function accessible on the classroom ERP app, parents and management are able to access this data from their mobile phones at any moment – there is no need to log into a cumbersome dedicated scheme to find out this data.