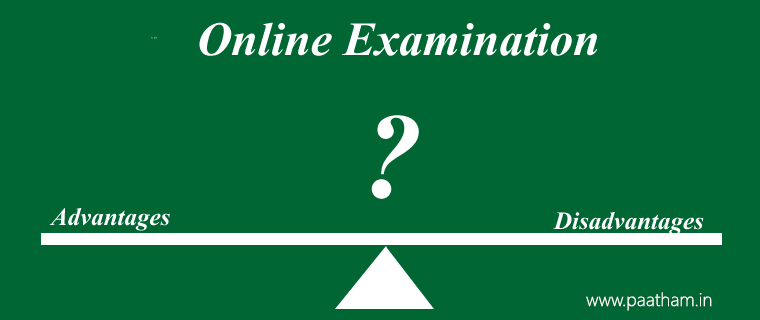 An online assessment is to conduct an online evaluation or test to assess academic performance among students. Traditionally, orally or through written tests using pen and paper, these examinations are performed. Students gathered in an exam hall or room where students obtained a question paper and students had to write answers within the time allotted. In order to ensure a fair evaluation of all participants, these questions were not previously used. Participants then turn to their answer sheets and evaluators exchange student scores after a period of time.
All these traditional elements continue to persist with an online study, but the method of evaluation has changed–instead of a physical examination room, students now log into an online examination system through which they view and post their answers to the question paper. This method also involves analysis and reporting of tests.
What are the advantages of an online examination system?
The advantages of implementing an online examination system at your educational institution are plenty. Below we discuss some key, easily accessed advantages of switching to an online examination system at your school:
Environmentally Friendly
Straight out of the gate, the negative impact of conventional pen and paper tests on the world is minimized by an online examination system. This kind of eco-friendly and forward-thinking approach to daily processes is essential in a world where students can graduate into an environmental crisis caused by climate change. Students will imbibe these values over the course of their education.
Technologically Forward
The key advantage of using the online examination system is that it is well incorporated into a technologically rich world. For professional situations, the use of pen and paper is growing. Most of the work is done with email, text messages, presentation machines, computer-based development, etc. Using this method to familiarize students with a range of interfaces prepares them for the real world. It is possible that their experience with such a system and method will be particularly helpful even in the future after they have graduated for activities such as training and testing.
Reduces Labor Cost
The sheer amount of resources that can be used to set up a single exam is mind-boggling — from teachers setting the test to administrators ensuring that all students receive enough copies of the exam paper. The use of an online examination system removes many of these procedures and the related labor costs, which have a significant and positive impact on the bottom line of the method implementing educational institution.
Saves on Time Investment
The design, administration and assessment of a test are time-consuming activities for all concerned from the student to the teachers. The use of an online examination system allows for a reduction in the time required for the analysis process as a whole. This is because features such as inserting and exporting questions, easy access to the students ' test, and batch-wise assessments allow students and teachers to save valuable time that would usually be spent on non-primary tasks and instead channel those resources towards setting and assessing students ' academic progress.
Reduces Overheads
The overhead costs of obtaining an exam hall, printing out multiple question papers, supplying students with answer sheets and other resources could actually add up. Nevertheless, switching to an online review platform reduces or removes many of these overhead costs directly. Such a move has a positive effect on the educational institution's bottom line, freeing up much-needed resources for the school or college that can then be guided to core responsibilities.
Increased Security and Privacy
A final advantage of the online examination system is that it allows for increased student privacy and an improvement in how secure the entire process is for all stakeholders involved. For instance, there can be no meddling or untoward activities within the system since there is no opportunity for malicious elements to game the system and produce erroneous responses or results, engage in cheating or any other unethical practices.
Students often earn outcomes that keep their reputation among peers confidential and encourage positive development rather than harmful and futile peer rivalry. This kind of security and privacy may seem unnecessary, but for both students and teachers alike, it really provides a safer and more positive attitude towards the whole examination process. Fostering such a mentality is in the interest of the educational institution as a whole.
What are the disadvantages of an online examination system?
Open Book Exams
Due to the nature of the online examination system model, exams conducted through this platform are open book exams to some degree. Unlike traditional examination settings that did not allow the examination to have external materials in the physical space, nothing prevents students from referring to their course materials during an online examination. Since there is also no direct supervision during the exam time period, the entire system is reliant on an honor system to prevent cheating or other malpractice.
Teachers can, however, mitigate this effect by setting questions that do not depend on the ability of the student to search for information in a textbook or Google. Instead, questions must concentrate on evaluating the student's understanding of the topic. These are in many ways predictors of the actual comprehension of the content being learned by the student and thus a better representation of their academic progress.
Onboarding onto New Technology
The implementation of an online examination system necessitates a period of familiarisation on part of all users. Any change in structure will require some investment in onboarding on behalf of the educational institution in question.
The best approach to take here is to model preparation for both students and teachers during the transition from traditional examinations to the online examination. Such learning will familiarize students and teachers with the system's different features, making it more likely that they will actually use it rather than sticking to the status quo as to how exams are conducted at their school.
Infrastructural Barriers
While the online examination system offers great scope to improve student inclusion and accessibility worldwide, its positive impact can still be mitigated by the location's infrastructural conditions. Nevertheless, these obstacles are beyond the influence of the system itself, it is clear that it affects it.
Factors like steady internet connectivity, the presence of an electrical connection, and other infrastructural issues in many parts of the world that interfere with how an online review system will work. Therefore, it is important to keep the audience in mind when introducing the school's use of this program.
Not suited for Collaborative Evaluations or Group Projects
The very nature of examinations in the online examination system prevents certain modes of evaluation being implemented at the school. The most obvious one here is that it is not an ideal platform for collaborative evaluations or group projects. This is because the nature of the platform is objective, preventing subjective evaluations where points are handed out to a group for subjective efforts, rather than points awarded on an existing framework.
Conclusion
Examinations are an inevitable part of the educational ecosystem. With evolving technologies, a globalized world, and an increasingly competitive educational landscape, it is necessary to keep up with the times. Along with ever-evolving teaching and learning methods, processes like examinations must also be examined. An online examination system is the product of such an analysis – it automates, digitizes and flattens the process to become more accessible, inclusive and accurate compared to its previous avatar. At the same time, it does not eliminate best practices in student evaluation and examination that have been built over the years. Instead, the online examination system is a culmination of the old and familiar and the new and innovative.