There are schools where all attendance related work is done on paper i.e. the entire session attending is hold on in register and at the tip of the session, the reports are generated. It makes the daily attendance a very weary task for the faculties. To overcome with such old-fashioned processes, Paatham came up with Attendance Management Software to speed up and make attendance process easy. Online attendance management system or e-attendance is one among them.
Online Attendance Management System is an application developed for student's daily attendance at school. It helps to take care of the correct record and generate summarized student attendance report for the students by applying varied criteria.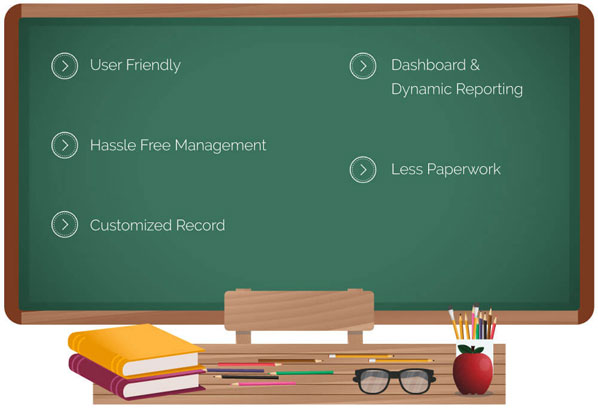 What is Attendance Management Software and why is important for schools?
Student Attendance Management Software is one of the applications of school management software that is designed to maintain the accurate status of student daily attendance. It helps to keep up records regarding student attendance, absent or leave records and many more.
With the thought to get rid of old fashioned manual technique of maintaining attendance, Paatham introduced online attendance management software. It contains a variety of features and advantages that are explained below.
Why Online Attendance Management System?
The objective of Online Attendance Management System is to go with computerized system, instead of old-fashioned manual process. As compared to manual process, online system easily helps management to analyze student's attendance details as per requirement. Along with this, it provides summarized attendance report very quickly at any point of time.
Advantages:
Easy to access and user-friendly: User interface is very easy. Data storing and recovery is fast and secured. Additionally, application is given with graphical representation for easier interpretation and analysis.
Reports are simply generated: Various reports such as Student wise attendance, Day wise attendance, Class wise attendance, Month Wise Class Attendance etc can be easily generated. Current and back-dated reports can be available instantly.
Error-free: No paperwork and no risk of errors which can be occurred while marking the attendance manually.
SMS Integration: SMS Integration is one of the important features of attendance management software. By Paatham software, schools can easily send a report of a student to their parents like its absent report, monthly attendance report, leave and applications reports etc. It would be beneficial for both parents and teachers for better communication.
Features:
• A simple online application designed for all attendance requirements
• Capable to store up maximum records
• Fully compatible – needs only internet connection compatible
The online attendance management system has been engineered to eliminate the time and energy wasted in taking attendances. It's software package that fulfills the need of the system that it's been developed. The system has reached at such a level where all bugs are eliminated and operated efficiency.
So, at last, we will say that Student attendance software saves time and effort in maintaining attendance and being a Combination of all these features, Paatham provides of its best student attendance management software.